Human
Kanji
人間
English
Human
Romaji
Ningen
Additional Information
Primary Power
None
Slave Price
500,000
Notable Members
N/A
The Human (人間, Ningen ) race, are beings who originated from Earth in the Living World. Humans, like most living things, have a body which contains a Soul.
Overview
Edit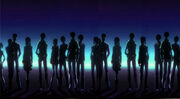 Humans are one of the major species to have come about in the Living World. Originally from Earth, their intelligence and ingenuity has allowed them to travel in space, settling the planets of Mundus Magicus, the Grand World and World of Earth Land at some point, and are almost always the dominate species on whichever planet they inhabit.
Despite this, humans are widely regarded as weak and inferior to most extraterrestrial species — especially to the Saiyans. Even on their homeworld of Earth, they are seen as greedy, manipulative, and power hungry beings, with the exception of a very small pure hearted group.
See also
Edit
Ad blocker interference detected!
Wikia is a free-to-use site that makes money from advertising. We have a modified experience for viewers using ad blockers

Wikia is not accessible if you've made further modifications. Remove the custom ad blocker rule(s) and the page will load as expected.