Welcome to the Ultimate Crossover Wiki
The anime universe invented by fans, for fans!
---
Ultimate Crossover Wiki News
Ultimate Crossover Wiki has strict policies which are enforced, so please ensure you are familiar with them. You can find them at this link.
About Us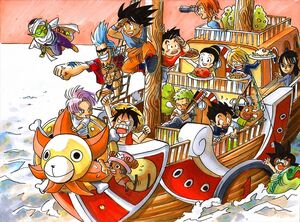 Its every anime and manga fan's dream! A wiki which combines their favorite universes into one! Sound chaotic? Not quite. Ludicrous even? In the conception of this wiki, the founders connected each anime/manga where it fit together to form a cohesive universe. Rules were then invented to prevent obvious butchering of this freedom, to create a wiki where everyone can enjoy a singular universe in which their favorite series can co-exist with one another! Jump in! Start a story, a roleplay, a character, anything! Feel free to ask one of our admins if you need any help finding certain content, or if you are confused with how this wiki works! Happy editing!
Featured Article

Featured Article

---

Not yet revealed!




Main article: ???
Weekly Blogs
Check here soon for the prominent blogs on the wiki!